We all know that videos work effectively to get your message out there to your audience. But with speed of which you have to keep up with the market, you need your video creation processes coming much faster than before.
Right now, it's common to see the entire video-making process being done entirely on a mobile device. So what are some of the mobile apps for editing out there that can keep your content creation on-the-go?
Here are 5 video editing mobile apps for free that we think you should try.
VITA
If you're looking at basic, quick edits, this app fits that bill nicely. It has certain templates that allow you to bring in your photos, to make things more interesting than a slideshow.
The layout and functions are pretty intuitive and straightforward. They also have a small library of animated stickers to brighten your edits and insert the usual call-to-actions for social media. What is great about this app is that it has a rather decent range of in-app music to be used. Do note though, that the tracks are only to be used in videos edited within the app.
It also allows you to import your own tracks and pull audio from other clips you might have. But do take note of the proper copyright and licences when you're doing so.
iMovie
This might be a given but it is often overlooked for other apps that are newer, cuter, or trendier. iMovie is still a reliable video editor for those who are not looking for anything fancy and need to stitch a few clips together quick. Being based off the app that was meant for a desktop, I find iMovie to be a bit 'clunkier' at times when editing on the phone. It is a bit slow and lags a bit when editing. As compared to its competitors in the current mobile phone app market, it certainly leaves a lot to be desired when it comes to effects and stickers. However, in a bind, this does play it's part of editing simple videos.
Of course, one of the major downsides to this app is that it only operates on Apple devices.
VLLO
This app is one of the most easy-to-use editing apps with the most functionalities. If you are used to editing on something a little more complicated but have no need (or time) for the bells and whistles, you might take a liking to this. It even allows you to add basic animation points to your clips to add some movement to static images, which makes a huge difference when levelling-up your video.
I like that it is able to easily change the dimensions of the project. What I would love even more is if they allow you to make a copy of the video when you change the dimensions, instead of just changing that single video, in case any changes need to be made to multiple versions.
The best thing we love about this app? There is no watermark after exporting it, even in the free version of the app, which is amazing considering the full functionality of what it can do.
For music, you can choose to import your own files easily, or use their selection of in-app music. Paying for the premium expands the selection a little but not by much. The tracks, though giving a decent range of vibes, do sound a little dated. They are, however, still pretty useful when you need some generic background music for your social media videos. They have a small selection of sound effects too, which are fun to play with for more catchy videos and they allow you to record your voice directly over your video, which works for simple voice-overs or narration.
TikTok
An unlikely contender within this listing but I feel a highly underrated one at the same time. Why did TikTok become so famous? Among other reasons, it had a huge library of in-app effects and video editing functionality that allowed literally every app user to create cool content for themselves. Coupled with their extensive library of up-to-date music, and allowing you to see what's trending, this app is famous worldwide for a reason.
Don't just stick to the filters and stickers here. Explore the full suite of free effects, transitions and, of course, video editing functionality, that can be found within the app.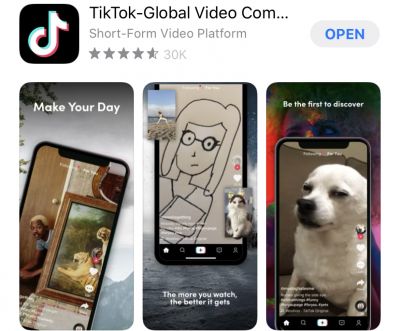 VN Video Editor
If video editing is not really your thing, but you still have clips and images you want to present in a visually appealing way, VN Video Editor might just be for you. It allows you to upload your clips and videos and apply it to some ready in-app video templates that they have, complete with funky transitions, filters and music.
I love how it allows you to sort your raw files (what they call 'Materials' in the app) into different folders, so you can easily manage and edit multiple projects within the same app. Additionally, dimension-changing is a breeze with literally 2 taps to change into a multitude of social media-friendly dimension presets. It also allows for easy picture-in-picture editing and has some of the more interesting video transitions. As far video editing goes, it is rather basic. But it can export videos of up to 4K in resolution. Though if you are editing 4K videos, move away from apps and go to a computer as it will eat up your memory in no time.
You can record a voice over directly over your video for narration and it also allows import your music from your device, or even a link.
For a free version of VN Video Editor, your exported video will have a watermark at the bottom right hand corner.
---
06-17-2022
If you have not started making videos. You might be falling behind your competitors. With over 1 billion hours of video being watched on…
01-19-2022
Just as in any other method of promotion, in video marketing also, it is important to tap the right nerves of the watchers so that they…
07-22-2021
Lighting is one of the most important factors in taking videos and photographs of natural subjects. Unlike with studio shoots where you…